Need a stash of planner icon stickers that never run out? Then printable stickers are your solution! Print as many copies as you like, save money and time, and never run out of your favourite stickers again. I'm sharing some tips for getting the most out of your printable planner stickers. Plus there's a cute sampler sheet of planner icon stickers you can download from my free Planner Lovers Resource Library.
How To Get The Most From Your Printable Planner Stickers…
Collect and Store Your Favourites
Create a special folder on your computer, or device, for storing all your favourite printable sticker files. Make sure everything goes in the folder, so you don't waste time searching all over for that darn coffee cup sticker sheet!
Choose Planner Icon Stickers that are Super Useful
What events and appointments are you always adding to your planner pages? What do you often forget? Find planner icon stickers to mark these events, appointments, and regular occurrences. Some examples of useful icon stickers: coffee cup, trash can, medical or dental icon, laundry and shopping trolley. There will be lots of others that suit your unique lifestyle!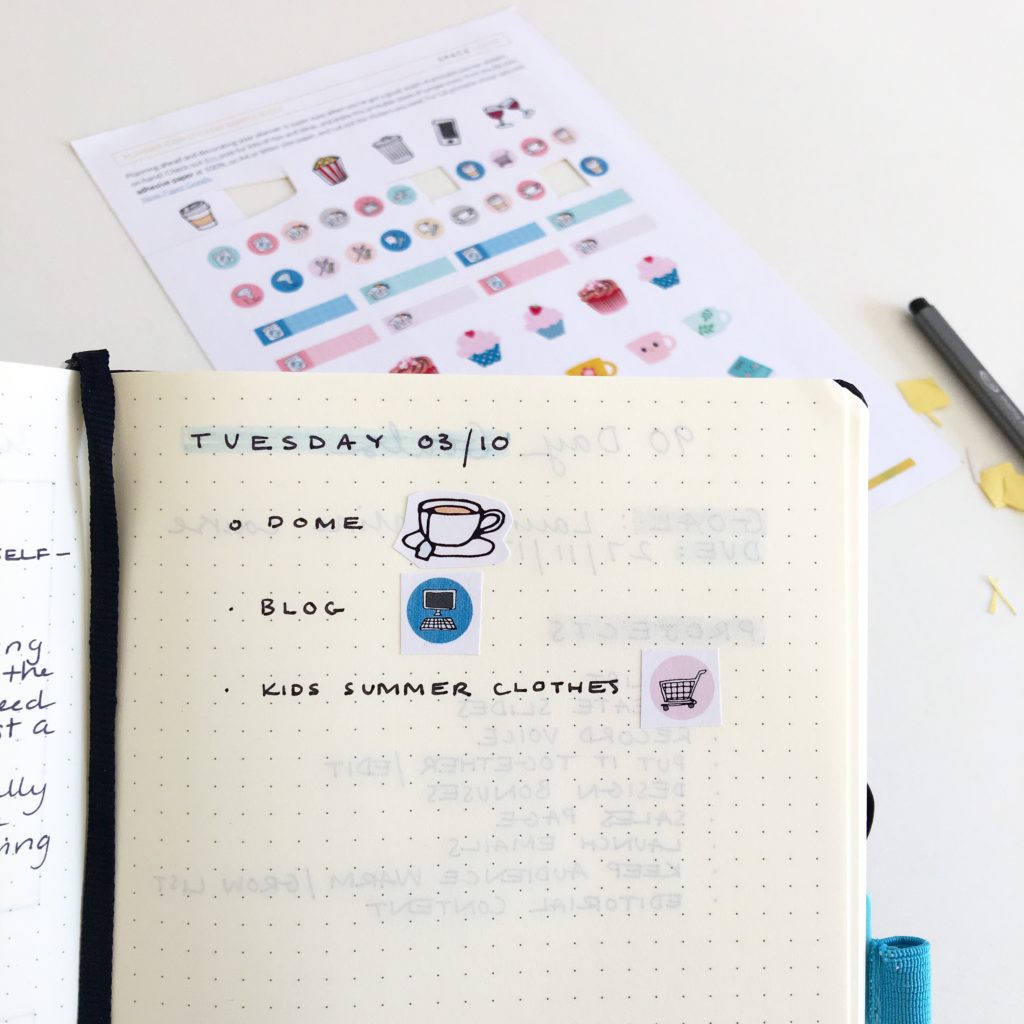 Print Stickers in Advance To Save Time
Don't wait until you've completely run out of stickers to start printing more. Do a big batch print of your most used sticker sheets. Grab a pair of scissors and cut out a bunch while you watch Netflix or listen to your fave podcast! You'll be surprised how relaxing and satisfying it is. And you'll have a good stash of planner stickers at the end. Find quick, easy, ways to cut out your stickers. For example, leave a white border around detailed designs and cut circles out as squares. A couple of tools that come in handy are circular, or other shaped, punches and a paper trimmer or craft knife and ruler for easy straight edges.
Organise Printed Stickers in Topics or Themes
Now that you've printed, and cut out, a bunch of cool stickers you'll want to organise them well. Invest in some little containers with dividers, mini draws or even little zip-lock bags. Store your stickers in collections that will help you find them quickly when planning. For example, keep appointment related stickers in one group, and chores in another. Another way to organise your planner stickers is to colour code them, especially if you like to use a different colour scheme, or theme, each month. Use labels to help you find each group.
Save Time When Planning Ahead
Use your printed planner stickers to quickly add any upcoming appointments, events or tasks to your pages. Or, use them as a reminder to make an appointment on that day. Alternatively, use them after the events have happened to record your day in stickers! They make cute decorations on your pages too, and keep everything streamlined and tidy.




Get the Best Printing Results
Print your planner stickers onto good quality adhesive sticker paper. White is best, in either a matte or glossy finish. You can use your home inkjet or laser printer. Keep in mind that printing results will vary according to the type of printer, ink, and paper you are using. Printer driver settings can affect your print results too so experiment by adjusting them. Setting print quality to 'Best' or 'Photo Quality' should improve the final result. Don't have a printer? Take your files, on USB, to your local copy shop and have them printed professionally. Remember to ask for adhesive paper!
Print Planner Icon Stickers As Many Times As You Like
One of the best things about printable planner stickers is that you can print them as many times as you like! 'Instant download' means you can have your files right now, and print them out at home straight away. There's no waiting for shipping or worrying about your goodies getting lost or damaged in the post.
Download a Free Printable Sampler Sheet of Planner Icon Stickers
Access my free Planner Lovers Resource Library and download a cute sampler sheet of planner icon stickers! Experiment with printing and cutting the stickers, and see what style of icon sticker you like best.