Are you having a hard time deciding whether or not use a weekly spread in your bullet journal? Hand drawn weekly spreads can be time consuming to set up and maintain. Plus, using a weekly spread is sometimes thought to oppose the original bullet journaling system, created by Ryder Carroll, which uses monthly and daily logging. However, bullet journaling is a flexible system and it's ok to customise your journal to suit your needs. A well designed weekly spread can bring structure to your bullet journal, improve productivity and provide a satisfying creative outlet. Today I'm sharing some practical ways to use a bullet journal weekly spread.
What is a Bullet Journal Weekly Spread?
A weekly spread is usually drawn ahead of time. At the end of one week, a new layout is prepared for the following week. Some bullet journalists will even prepare a whole month of layouts in advance. Within the weekly spread a certain amount of space is designated to each day of the week. The spread might also include things like a mini habit tracker, sleep log, meal plan or to-do list.
If you're thinking about trying a weekly spread, I recommend brainstorming some ideas first. Make a list of the things you would like to see on your spread each week. Consider how it will help you to be more organised and productive. Think about how much time it will take to prepare your spread each week, and design a layout that you can manage.
Here's a few ideas for how and why to use a weekly spread…
1. Make a 'Near-Future' Log
When I first started bullet journaling I would create a daily log each morning and add to it throughout the day. Sometimes though, on a Monday for example, I would think of something that I wanted to remember on another day of the week. I found that adding too much to my current daily log resulted in overwhelm, and some things being missed, and I needed a better space to log these 'near-future' tasks. So, I started setting up a simple weekly spread to use in addition to my daily logging, where I could write these tasks on the correct day. It turned out to be the perfect solution and I still use this method every week. I call it my 'Near-Future Log'.
Here's what I do:
Every Sunday I draw up a very basic weekly spread (see above image). It only takes a few minutes. Anything I need to log on an upcoming day of the week, ahead of that day, goes into my near-future Log. I review my near-future log every morning and relevant tasks are moved into my daily log. Having somewhere to 'dump' tasks and notes for other days, as they arise, really helps me be more organised and less overwhelmed.
2. Create Structured, Yet Flexible, Planner Pages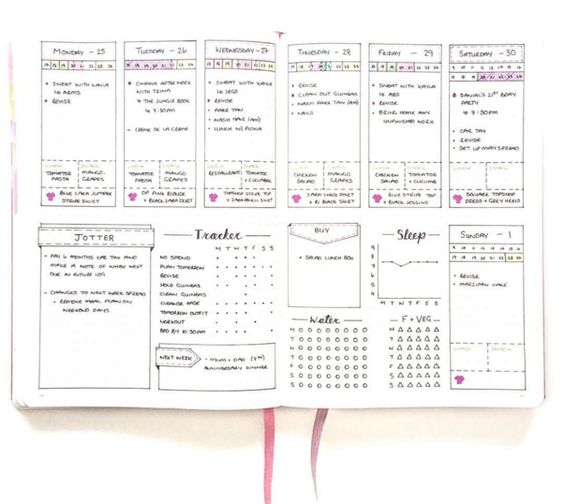 Were you previously using a structured planner or diary, such as a Filofax or Erin Condren? Perhaps you were struggling to fit everything in to your planner so you turned to bullet journaling for it's flexibility. However, you still crave the structure that came with those other planners, with their designated boxes and spaces to write.
Designing and drawing your own weekly spread is the best way to combine the flexibility of bullet journaling with the structure of traditional planners. You can decide exactly what goes onto your page, and set it up in advance to give you the structure you crave. You can still use the bullet journal rapid logging method within your customised page layout, or tweak the method to suit your weekly spread.
3. A Daily Log, For When You're Short On Time
If you are someone who customises their daily log, you might run into trouble on days when you simply don't have the time. This is another instance when a simple weekly spread, drawn in advance, comes in handy.
For a while I was drawing my own layout every day. It included a brain dump, food log, task list and mini mood tracker. Most days I would decorate the page with a small illustration. I would spend 20 minutes or so drawing up this page every morning. I loved it, but some mornings I was simply too busy. On these busy days I was able to use my simple weekly spread (ie. the near-future log from above) in place of my hand drawn daily log. I used the designated space for that particular day to complete my rapid logging. Obviously it had limited space, but so did my hand drawn daily layout.
Having a simple, clean, weekly spread drawn up in advance gives you something to 'fall back on' in your bullet journal when you haven't got time to set up your regular, detailed, daily log.
4. Journaling and Memory Keeping
A customised weekly spread is a great way to incorporate daily journaling into your bullet journal. Sometimes the practice of journaling is forgotten when we're rapid logging. If regular journaling is a practice you want to include in your bullet journal, giving it a designated space can really help. If you like to draw why not illustrate the week in a custom designed 'scrapbooking' spread? Printing photos from the week, onto lightweight paper, and including them in a weekly spread is also a beautiful way to record memories. These spreads are lovely to look back on. Remember to add them to your index so they are easy to find!
5. Creative Outlet
Bullet journaling can be an extremely creative process and if you're drawn to this then I highly recommend designing customised weekly spreads! It can be an extremely satisfying practice. I love organising everything that is important for me, in a way that works just for me. My advice is to go with your gut rather than spend too long looking at what other people are creating. You'll only become overwhelmed. Work out what you need on the page, how you want to decorate it, and go crazy! Remember, there's no right or wrong way.
If designing your own weekly spread (or any custom page) brings you joy, contentment and a greater level of organisation, then you should absolutely do it!
What are your thoughts on using a bullet journal weekly spread? Let me know in the comments below.