If you loved the 24 page printable Self-Care Journal, then I have a treat for you! I've designed a free printable Gratitude Tracker that coordinates beautifully with the Self-care Journal. Gratitude is one of my favourite self-care practices. I'm sharing some tips to help you make gratitude part of a daily journaling routine.
Gratitude is good for you!
Gratitude is simply the practice of feeling thankful for the good in your life, instead of feeling like you need 'more' to be happy.
The more you practice gratitude, the more you'll find to be grateful for. And the easier it becomes to have an overall positive outlook on life.
Studies have shown that people who regularly practice gratitude are happier, less stressed and better able to manage life's ups and downs. Making gratitude part of your daily journaling practice is a simple and enjoyable way to improve moods and boost wellbeing!
How to make gratitude a daily habit
Here are ten tips to help you remember your daily gratitude practice:
Set an alarm on your smartphone to remind you to practice gratitude.
Mark your gratitude page in your journal, with washi tape, a bookmark or sticky note, so you won't miss it!
Add 'practice gratitude' to your daily to do list.
Write your gratitude in your daily log so it becomes part of daily logging.
Add gratitude to your habit tracker and tick it off each day once complete.
Keep a separate journal beside your bed that is just for recording gratitude.
Create a trigger – write a gratitude list with your morning coffee (or evening herbal tea!) so you remember that the two activities go together.
Make gratitude the first thing or last thing you do each day.
Add a sticky note reminder to your journal, fridge or computer, or anywhere you're likely to see it.
Practice gratitude throughout the day by being mindful of the things you are grateful for as they arise. This will help you cultivate an 'attitude of gratitude' and you'll be more likely to write it down.
Free Printable Gratitude Tracker
Download your free printable gratitude tracker from my Planner Lovers Resource Library. The document contains both a pink and blue design. Print just your favourite colour, mix and match the two, or alternate between colours each month!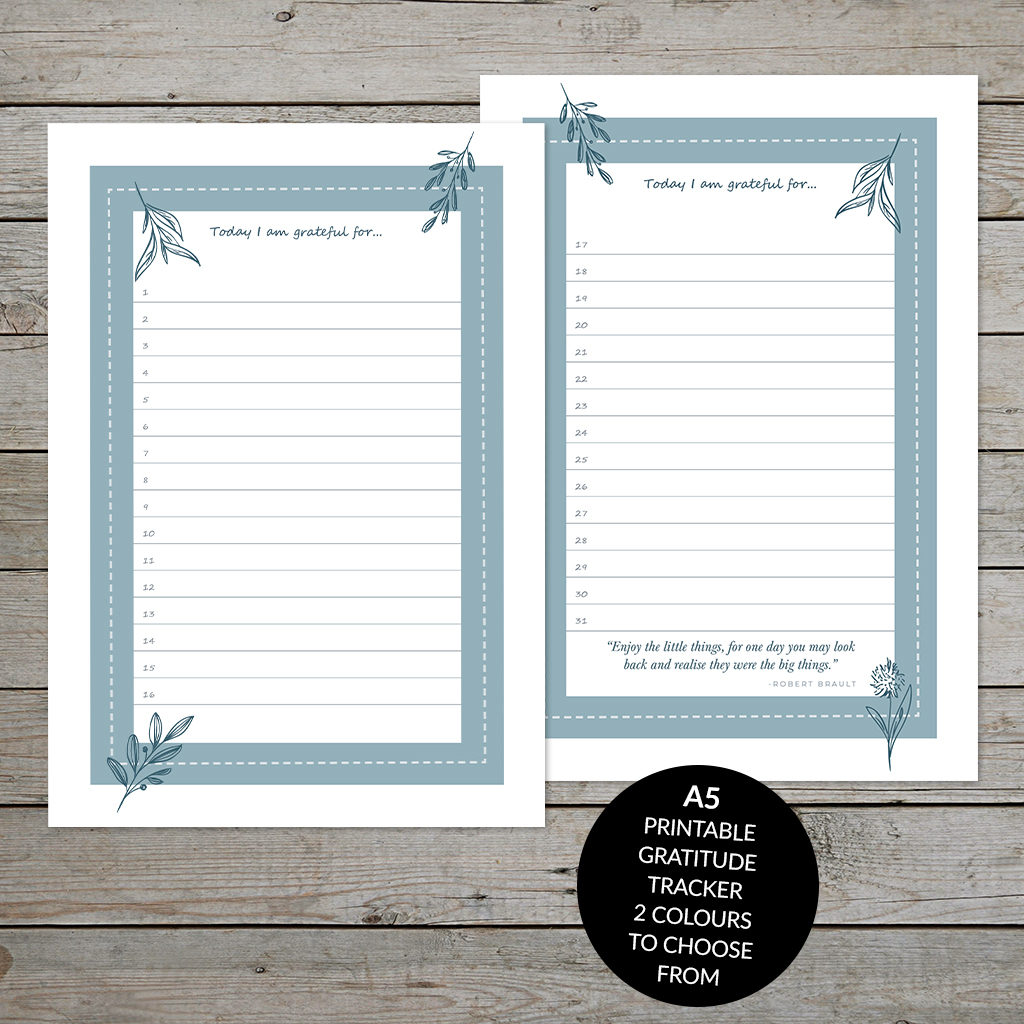 Your printed gratitude pages can be inserted into your ring bound planner, or stick them straight into your bullet journal notebook. Choose your favourite tips from above, and make gratitude part of your journaling practice…every single day!
If you love the free printable gratitude tracker, make sure you check out the 24 page printable self-care journal too. It's packed with prompts, inspiring quotes and gorgeous lined pages to help you learn to take better care of yourself.
Happy journaling x