Using a habit tracker is a fun way to learn about your habits, and stay motivated to improve them. I admit, I wasn't very good at keeping a tracker when I first tried. But I persisted, experimenting with different ways of tracking, and I'm glad I did! There were a few things that helped me become better at tracking and, of course, improve my habits. I'm sharing those tips today to help you get the most from your habit tracker. Plus, I've designed a simple printable habit tracker that you can download for free and get started with straight away. It's A5 size, ideal for adding to a bullet journal notebook or large ring bound planner.
What is a habit tracker?
If you search Google you can find a habit tracker for almost anything, from tracking your moods and sleep to which Netflix shows you've watched! Most trackers include a list of habits, or tasks, in a column down the left hand side, and the days in a row across the top. At the end of each day you check off the habits/tasks you achieved. A tracker can be set up in any notebook, on a blank planner page, on a loose sheet of paper, digitally, or on a ready-made habit tracking notepad.
What should I track?
What you choose to track will be different for everyone. Is there something you would like to change, or a goal you would like to achieve? Maybe you would like to have more energy, lose weight, reduce stress, save for a holiday or complete a project? Use your goals as a starting point for your tracker. Can you break these goals down into small daily tasks?
For example, if your goal is to lose weight, your tracker might include some of the following habits: weights, jog, cardio class, alcohol free, no dessert.
Or to track your habits towards reducing stress and anxiety you might include: meditation, yoga, early to bed, caffeine free, journaling, massage.
Each day, review your tracker and check off the habits, or tasks, that you achieved.
Benefits of habit tracking
Just the simple act of writing down your habits makes you instantly more mindful of them. It's also a great way to hold yourself accountable so you'll be more likely to start taking action. Checking off the tasks you complete each day will give you a sense of achievement, and satisfaction that you're working towards those larger goals.
You'll be able to measure your progress and discover patterns. These patterns may give you insight into why you get more done, or feel healthier, on some days rather than others. Tracking moods, along with habits, can be particularly helpful for learning more about ourselves. I wrote a post on mood tracking here.
Create an all-in-one tracker
If you're not sure what to track, a good way to start is with an all-in-one tracker. Consider your ideal day: what positive tasks or events would you like to make a habit of? What not-so-positive habits would you like to improve on? All of these small habits will be leading you towards achieving bigger goals. Including them all in one tracker helps you make changes in all areas of your life. Consider including moods and health in your tracker so you can see their relationship with your habits.
An all-in-one habit tracker helps to simplify the process of tracking which means you will be more likely to review and fill out your tracker each day. Keep the design simple, and make it quick and easy to fill out. My first attempts at creating an all-in-one tracker required me to colour-in my completed 'habits' using a different colour for each one. The colouring-in took too much time and after a few days I abandoned the tracker.
My current bullet journal habit tracker is a minimal style all-in-one tracker that requires me to add a simple 'dot' when a task has been completed. I just grab my regular bullet journaling felt tip pen, run through the list, add dots where necessary, and I'm done! This works perfectly for me, but a creative colourful tracker may motivate you more and that is absolutely fine!
What if I forget to use my habit tracker?
Remembering to review, and fill in, a habit tracker is a habit in itself that needs time to develop. It's easy to miss a few days of tracking here and there until the habit is well formed. Unfortunately this can leave us feeling disappointed or even like a failure. It's important to remember that the 'doing' is more important than the 'tracking'. If you're making the changes, completing your tasks and working on developing those good habits, then celebrate your achievements, even if you've forgotten to track them!
And if you feel like you're slipping back into your old habits, take some time to pause and reflect. Congratulate yourself on the tasks and good habits you did complete, even if it's been a few days. Find ways to feel grateful, be kind to yourself, and keep going!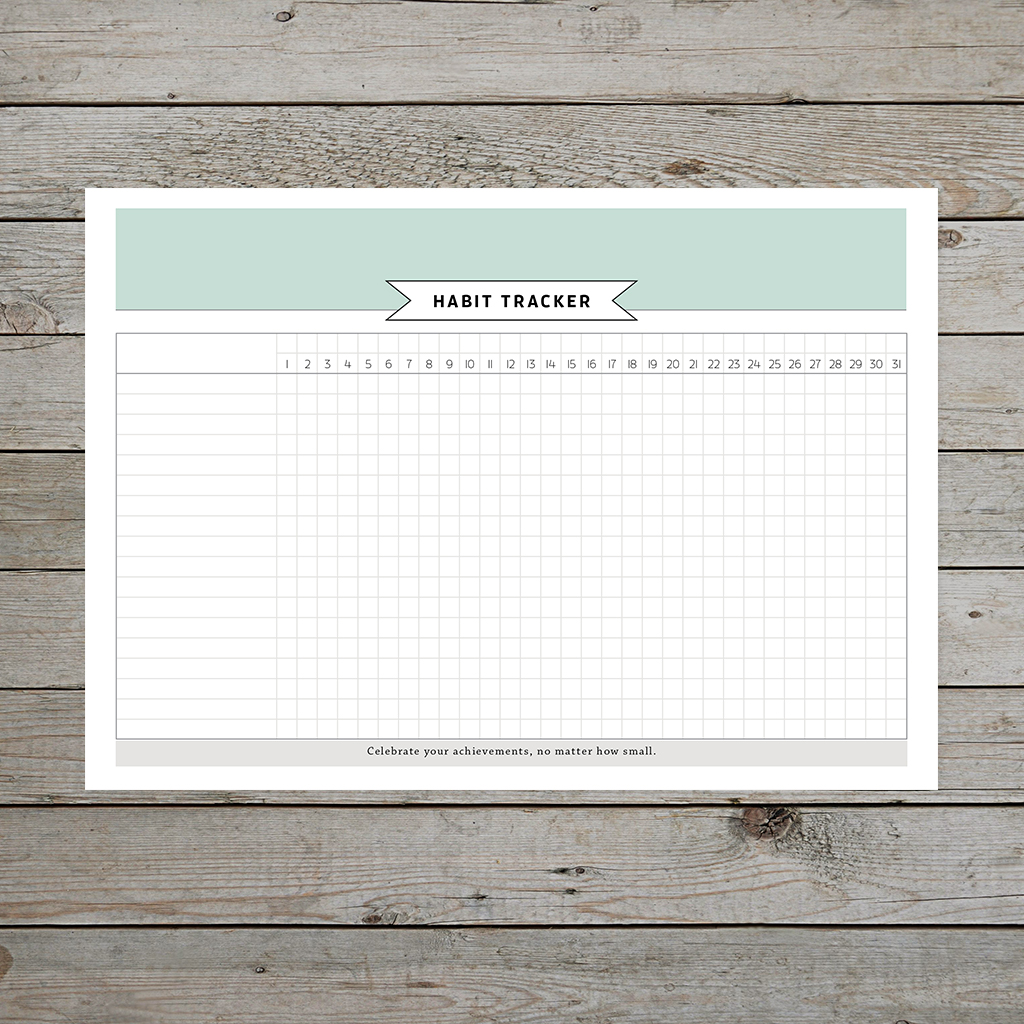 Tips for positive, successful, habit tracking
After some experimentation, I've finally come up with a tracker that is working for me! I look forward to reviewing my tracker each morning and night, filling in the relevant sections, and seeing the connections between my habits, achievements and moods. Here are my tips for keeping your habit tracking positive, and achieving success:
Keep it simple
My first few trackers were decorative and each row of 'checkboxes' had to be filled out in a different colour to signify that habit. This ended up taking too much time and I found myself giving up and abandoning the tracker after just a few days. It wasn't until I created a very minimal tracker, using just one felt tip pen (the same one I use for all my journal entries) that I was able to develop some consistency in my tracking. As I mentioned earlier, my current habit tracker requires me to add just a simple dot to check off each and every habit/task/mood. It's quick and easy, and works!
Have a purpose for tracking
Knowing why you want to track is really helpful and can be the difference between a tracker that is used daily, and one that you use only once or twice and abandon. You'll be able to create a very focused habit tracker that includes just the right tasks to keep you moving forward. Having a purpose behind your tracker will also keep you motivated to fill in and review your tracker on a daily basis.
Identify obstacles
What obstacles might get in the way of you developing better habits? Identifying any obstacles, and having a plan in place to deal with them, will help you move forward faster. For example, you may want to establish a new habit of getting up early to go for a jog. You know that if you take too long to get ready, you won't get out the door. So you plan for this obstacle by setting your alarm and laying out your exercise clothes the night before.
Celebrate and Reward yourself
Make sure you acknowledge your achievements, no matter how small, and pat yourself on the back often! Celebrating the small things will boost your confidence and help you stay motivated and inspired. Set rewards for yourself, such as a night out, a massage or a new pair of shoes!
Download your free printable habit tracker!
I have designed a clean, simple, A5 habit tracker that you can download for free, from my Planner Lovers Resource Library. Print your habit tracker onto regular copy paper and pop it inside your A5 bullet journal, notebook or ring-bound planner such as a large kikki.K planner.
Keeping a habit tracker can help you understand your habits better and stay motivated to make those new, improved, habits stick. Let me know how habit tracking has helped you in the comments below!